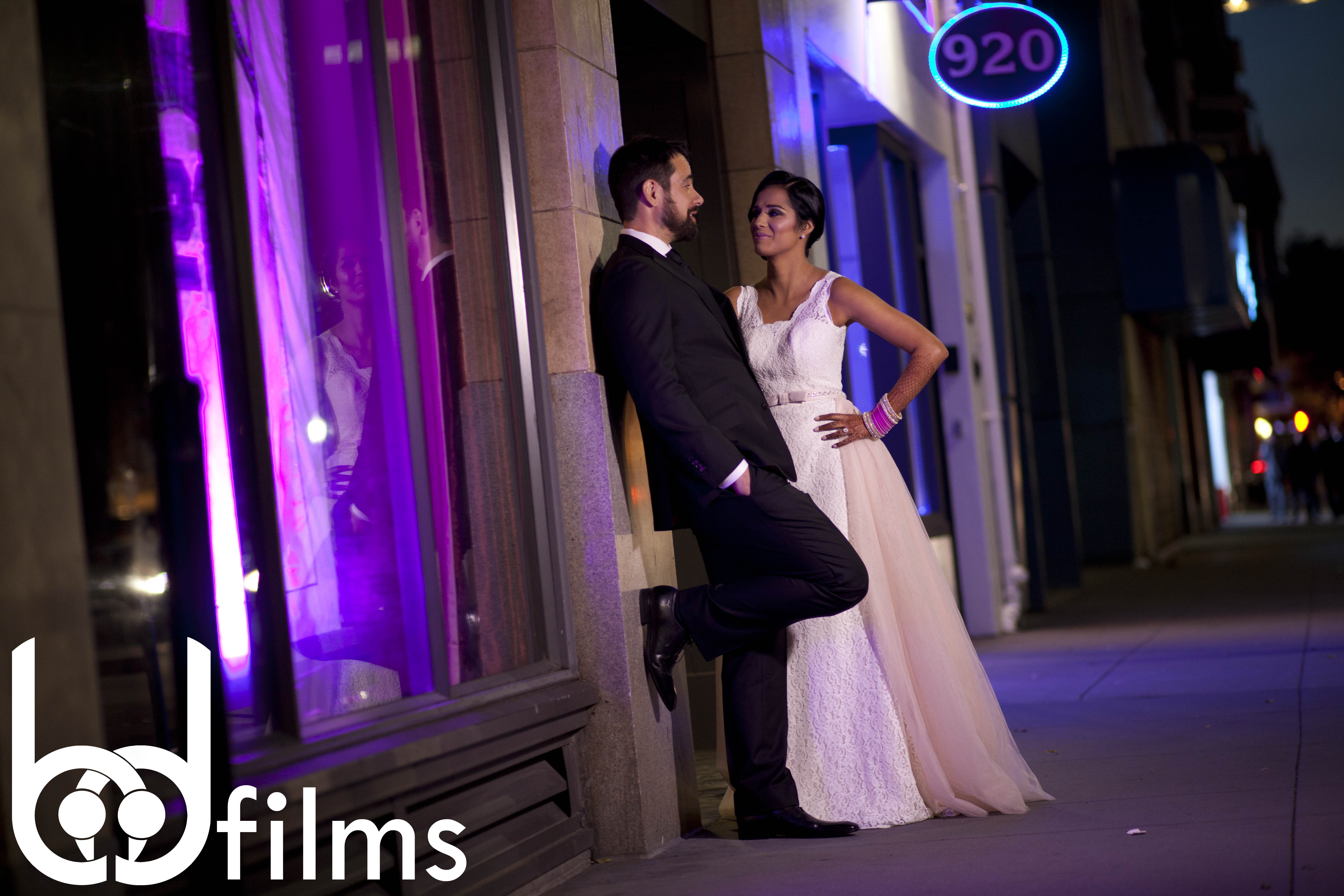 Before we got into filming weddings, we had the same connotations of this industry as the next person. My most vivid memory was at a friend's wedding where I was witness to the stereotypical video dude with the giant shoulder cam, on-camera light, and cables hanging every which way. He was paid to stand in the back of the room and record every second from start to finish.
My first thought was, "are they even going to watch this?"
So, is it Necessary?
To answer the question, I'll be completely honest. No, a wedding videographer is not necessary. Gasp!
It must be strange hearing that, seeing as this is what we do for a living. The truth is though, having a keepsake like a wedding film just isn't a priority for everyone. You may be more focused on creating a truly magical evening for yourselves and for your guests, or maybe you want to spend extra effort on organizing an amazing cart of delicious treats for your foodies in the crowd.
If that's the case, you're probably less likely to be as concerned with capturing memories as you are in experiencing them with everyone. That's quite alright, because everyone is different, and we all have our priorities.
Should You Hire a Videographer?
One of the biggest regrets I hear from brides is that they didn't hire a wedding videographer. Sure sure, I'm biased, but take a look at this article, "Not Hiring a Wedding Videographer is a Bride's Biggest Regret" or this one, "…Big Mistake. Big. HUGE."
"How did I move in my dress? How did I sound saying my vows? What words did I actually say? … Yep, my main regret is not having any moving footage of my day."   -Becky, Rock My Wedding
The fact is, it's next to impossible for you to remember all of the little details, and even some of the big ones that happened that day. In talking with a potential client the other week, I asked them, "Why is having a wedding film important to you?" His answer made total sense and it was pretty refreshing to know that what we do clicks with our fans. He said that after watching our films, he felt as though he knew these people.
"Watching them was an experience, it was immersive."
Our goal when producing a wedding film is to make it as emotionally engaging as humanly possible. This is what we strive for each and every time. Visit our brendandayfilms Samples section to see some examples.
In Summary
If you're on the fence about it, or you're not sure you want to spend the money, I would definitely still recommend it. Try looking at it like an insurance policy. You may not watch it all the time, but it's there if you need it.
A beautiful and professional photo can do wonders, but it won't let you listen to your own voice reciting your vows. It won't bring you back into the conversation you were having with your bridesmaids as you got your hair and makeup done together. It won't let you hear the exchanges between your grandparents and parents during cocktail hour.
A film will do that.
You may be thinking wedding photos and a video are overkill, but trust us, you will want both. Don't just take our word for it — listen to feedback from these Knotties.
"The only regret I have about our wedding is not having a videographer. The day goes by so quickly — you really miss so much of it. I look back now and wish I would have spent the money for it." -Vicky Harrison

"I was really worried that I might regret not having a videographer — not only to capture my fiance and me, but mostly our family members. I know it's kind of morbid, but I know they won't be around forever and I wanted to capture their voices and mannerisms."

"While we are very pleased with our photographer, I'm now starting to have second thoughts about not having a videographer. I guess there's nothing like having a video to capture the details, people's faces/expressions, our vows — things that I might miss during the day as a busy bride and that don't necessarily get captured in even the best quality photos."

"DO IT!!!!! I promise you will not regret spending the money. You may not think you want to relive every minute, but after the day you have been meticulously planning for months flies by in what feels like seconds, you will be desperate for a way to remember it!"

"I just got married in June, and we had both a photographer and a videographer. I am so, so, so thankful that we ended up going with the video. It was something we almost cut to save money, but it was so worth it! When we got the pictures back, there were many guests and moments that were missed — and thankfully were caught by the video. I hate being videotaped, but I never even noticed him throughout the day."

— megc2

"I'm definitely planning on hiring a videographer. I want to be able to see fiance's and my expressions when we say our vows. I want to be able to hear how we say them — and I just want to see everyone have a ball at our reception. And come 40 years from now when DVDs and blu-rays are old-school, I still want to be able to watch us on our big day."

"I did not think I would be so excited to watch our wedding video, but the day went by so quickly! I want to see our ceremony and cocktail hour, which I missed. Though I may only watch it a few times, I think it was worth the money."

— foozzle
Fill Out the Form Below for more information on all of our services.
Cheers!